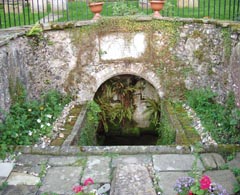 Withburga Festival 9th - 11th July
Come and join us in St Nicholas, Dereham, as we celebrate our festival of Saint Withburga.
Its a family occasion with entertainment, stalls, an art exhibition, craft stalls, refreshments and bell tower tours.
More details to follow...
Many of our Sunday services from Dereham are live-streamed on Facebook
.
View them here: https://www.facebook.com/stnicsdereham/
Daily Prayer Tuesday - Saturday is also live-streamed on Facebook at 9.00 am
Daily Prayer Monday-Thursday and Saturday on Zoom at 9.00am
Our
channel is called 'St Nicholas' Church Dereham' and can be found using the following link:
https://youtube.com/channel/UCJPHvhuoBXwdMKXex3hoqig
With our return to the churches our YouTube channel is used less often.
If you click on 'Subscribe' it will be easier to find in future.
The calendar at the bottom of this page shows upcoming services. You'll find a warm and friendly welcome.
Please click on the 'Contact Us' tab to get in touch with our clergy.